Good morning, I was delighted to be invited to Guest Design for
CRAFT Challenge

.
, thank you ladies!
The theme is 'Back to School' and there are two fabulous sponsors for this-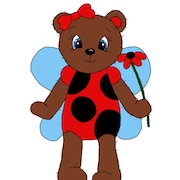 Prize is 3 images
and

Prize is $10 for store
To make my card I used 2 images from Oddball Art -
Book Stacks
and
Bookworm Astrid the Fairy
. As you can see I cropped the fairy image to make her look like a studious girl to fit the theme (the beauty of digis!) Both images are coloured with Copics and fussy cut (the book stack took a while!). The background was made by brayering Antique Linen Distress Oxide quickly over the gelli plate, and sprizing lightly with water before printing it onto my cardstock. I used a light grey ink to stamp the words and numbers onto the background- very subtle! With hindsight I wish I'd used a darker ink for the sentiment. I added a little stencilling around the circle aperture and inked the edges, then added my images. I'll give this card to my eldest granddaughter, Olivia the Bookworm, to wish her good luck for the new term. I think it's going to be strange and different for the schoolkids this year, hopefully they will quickly get used to the new regime...and even more hopefully they will stay safe and well.
Guess I'd better make two more back to school cards for the younger girls now!
Thanks for visiting and have a lovely day
Chris